Attractions to see during Show Day – 2019
Clwyd Axemen – new this year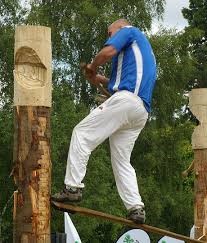 A great attraction at events – enjoyed by children and adults. With a great commentary, the axemen entertain guests in their great skills.
You may have seen these experts at various shows but their skills in craftsmanship are amazing – starting with a block of wood – an inanimate object – the final product looks alive and vibrant. We are delighted to welcome the team to Caerwys Show on, we hope, the first of many visits in future.
Woodland Skills Centre

Welcome to Mr & Mrs Waterfield with their display of the traditional crafts that they teach, a demonstration of some of the processes and small workshops where people can make something to take home.
Weaving Bark

The age-old craft of taking bark from fallen trees and weaving into baskets and other items – watch Jo demonstrate the skills and chat to her about the techniques and history.
Throw a Welly competition – new this year

Alongside our roll-a-bale competition kindly run by the Rotary group, we have a new competition – Throw a Welly – can you throw a welly further than your friends? Apply at the Rotary Bar (beside the main ring) to enter.
Junior Shepherd Classes

A lovely competition for exhibitors aged up to 16 years old, judged on presentation of both sheep and handler by this year's Show President. Wonderful to watch the stock handlers of the future, girls and boys, proudly show off their skill and knowledge of their treasured animal. Judged in the Main Ring at 1:00pm. Come and support your favourite.
Young Handler Cattle Classes

Caerwys Show Committee believes in encouraging young people to become stockmen and stockwomen of the future. Exhibitors aged up to 21 compete for the Colin and Alun Griffiths Memorial Perpetual Challenge Trophy judged on handling and presentation in the Livestock Area.
Vintage Tractors and Classic Car Displays

Once again, we are pleased to welcome support from the Vintage Tractors – the theme this year is '80 Years of David Brown'.
Classic Car enthusiasts will add to the atmosphere with displays of their glorious 'pride and joy'.
Dog Competition – for Fun and Agility

Back again the popular Fun and Agility Dog Show – courtesy of, and grateful thanks to, North Clwyd Animal Rescue Centre. Admission price to be paid at gate, small charge to enter dog into classes, details to follow.
Pedro's Children's Circus Workshop

This will keep the children entertained with Juggling, Uni-Cycling, Ball, Club and Ring Juggling, Hula Hoop, Plate Spinning, Object Balancing, to name but a few, and what's more it's FREE.
Punch and Judy & Magic Show

Welcome back to Chris Somerville, who will keep the children enthralled (and their parents) with three shows on the day, and it's FREE. Times of shows will be available nearer show day.
Birds of Prey

Welcome again to Harry Hamilton and his Birds of Prey – always a delight to see the expressions on the faces of children and adults when visiting this site.
Age of the Princes

Demonstrations of rural life in the medieval period – aspects of rural medieval life are shown through the role of a forester and associated craftsmen. Examples of traditional skills such as leatherworking, bodging, fletching and herbal medicine. The role of the forester is explained, why he carries a sword and buckler shield for his protection, how he deals with hunting dogs and lots more. www.ageoftheprinces.co.uk
Caerwys Agricultural Show Roll-a-Bale Competition

In the Main Ring at around 4:30pm we will need MANY teams of two people each, entry fee £5 per team, the winners take home half of the entry fees.
Entries taken all day at the Rotary Bar, which will remain open for all of the competition.
Will you be shouting your team on to victory or will you be doing the hard work of pushing that bale?
Children's Roll-a-Barrel competition at 4:30pm in the Main Ring, FREE entry for children.
Llysfasi & Vale of Clwyd Stickmakers

Pop along to the Craft Tent and look at all the different hand carved sticks on display. See who goes home with the Champion Stick and Champion Horn Rosette.
Carmel & Holywell Woodcraft Association

The members will be happy to explain the art of woodturning and other terms and techniques associated with making items from wood. On display will be the tools they use and wood items that the club have made, beautiful to see and hold, treat yourself to a gift.
Alpacas

The alpaca is a domesticated species of South American camelid. Alpacas are like llamas, and are often confused with them. The two animals are closely related and can successfully cross-breed. Alpaca fleece is the natural fibre harvested from an alpaca.
Spinning Demonstration

The Clwyd Weavers, Spinners & Dyers will demonstrate the age-old art of spinning wool – a craft which our forefathers learnt at an early age.
The Guild's Aim is to keep the traditional Crafts of Handweaving, Spinning and Dyeing alive and developing in the modern world.
Flint & District Beekeepers' Association

Their aim is to promote good beekeeping practice, provide guidance & support, ongoing information & awareness and support new beekeepers in the area.
Lathe Bowl Turning

Doug is a ranger at National Trust – in his 'spare' time he demonstrates the age-old art of wood turning, utilising the equipment that was used prior to modern power-driven lathes – a fantastic art form.
Basket Making

Ruth makes oak swills, cyntell and Welsh hazel baskets. She is also collating information about basketry local to her area where there was a tradition for making hazel baskets. Basketmaking is one of the oldest and most universal crafts known to man. There is an increasing interest in sustainability, many basket makers growing their own willows, carbon neutral production methods, local production and a greater appreciation of handmade objects has resulted in a resurgence in basketmaking.
Cleft Wood Hurdles

Natural fencing – cleft chestnut post and rail is a traditional fence that blends well into the natural environment, using strong and robust chestnut material which will stand the test of time – come and chat to David.
Birch Brooms

A penknife, birch sapling and a little patience are all you'll need to revive a vanishing craft. Thanks to their stout wooden "bristles," these heavy-duty sweepers are ideal for such outdoor chores as brushing out a tool shed or stable or clearing lawns and paths of leaves. Watch Mike demonstrate the skills.
Watch this space for further information of show day attractions. Caerwys Show Committee reserves the right to make any alterations or cancellations to the advertised programme of events that may be necessary due to circumstances beyond its control.